Wiring took a LONG TIME. I cut and stripped a bunch of wires, then attached spade connectors to them (to connect to the terminals on the microswitches). The KE72-T didn't come with a cable to attach the mouse buttons, so I made my own from crimp-fit female connectors and hot glue. I connected player 2′s box to player 1 (the encoder is in player 1′s box) using two female 25-pin connectors and a 6ft male-male cable.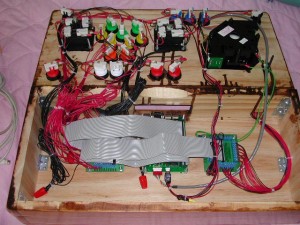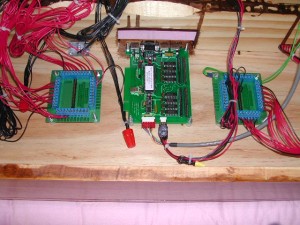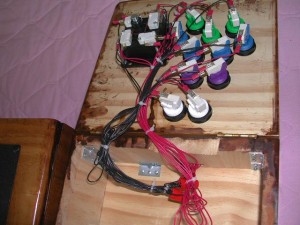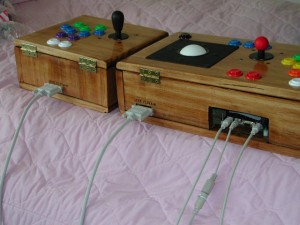 Here are some close up pictures of the tops of the panels. I painted the joystick screw heads black after countersinking them. I wrote the button labels by hand, and it shows. The labels show the intention of each button (the black ones are "pinball" buttons). The two sticks on Player 1 can be programmed independently, but they are usually programmed for the same inputs–the difference is that the black one is 8-way and the red one is 4-way.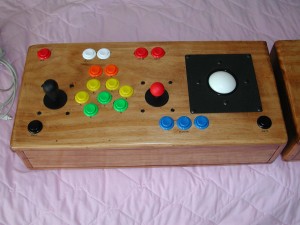 Damages
With the parts I chose, I knew it wasn't going to be cheap, but here are the totals:
$188.18 — Hagstrom Electronics — KE72-T, KE-TBH-3, KE-MM6-mini (2), IOX36
$78.35 — Bob Roberts — 30 buttons and 3 Super joysticks
$111.92 — Happ Controls — Trackball, trackball plate, carriage bolts and nuts, red ball Super joystick
$63.58 — Radio Shack — wires, cables, connectors, heat shrink tubing
$205.97 — Lowes — wood, hardware, and tools
$7.88 — The Computer Place — 9 pin F-F RS232 cable
TOTAL: $655.88 !!!!!!
You can do a lot better if you don't buy a router (save $100), use a cheaper keyboard encoder (save $75 to $170), and don't use a trackball ($100), bringing the cost down to about $275. Of course, without those things, you might as well get a HotRod SE for about $150 and save yourself the trouble. I was very picky about what I wanted and I paid the price!